Do you want to spruce up your landscaping to add some curb appeal without making a major home improvement? Do you want to add the right landscaping to add that stand out finishing touch to your new siding or new paint job but don't know where to begin? No need to panic, here is a helpful tip to start you in the right path.
Start out your new mission with a complementary color wheel. Yes, it's that easy. All you need to get rolling is a concept and the best way to break the ice is with planning the color scheme. You already have the main color on your house, so you're half way there. This is where the complementary color wheel comes in.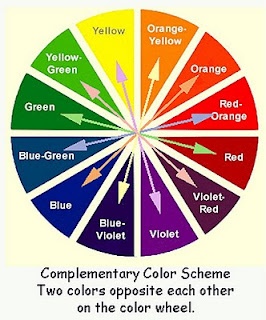 Complementary colors are opposite of each other on the color wheel. Basically, the contrast of the two colors create a vibrant look. This chart above is easy to follow with the arrows. You can either break out the color pencils to plot the areas by colors, or use your smart phone to capture pics of some plants/flowers that match the colors you choose.
Here is a link to a helpful article with pictures from HGTV to give some examples. It's best to not over do it, be subtle as you go and make room for growth. Also, have some fun!